Growth from change
Covid-19 was once again a constant presence in 2021. We used the second year of the pandemic to rework our processes and crisis planning, continuously implementing new knowledge into our daily work. The safety of donors was always foremost in our thinking, despite logistical and other hurdles.
Flexibility: Two years ago, Covid-19 changed our lives completely within a very short space of time. Suddenly, activities that used to be normal were no longer even possible. Our staff had to work from home in some phases; sometimes subject to additional strains due to closed schools or the illness of a family member. Blood donors did not know whether it was safe for them to donate blood or whether they were even still allowed to donate. Closed borders and severe curtailments of international air transport services were only two of the challenges for operations in the blood stem cell donation area. Suddenly, employees who had once been able to rely on well-established processes and structures found themselves in a situation where flexibility was the order of the day.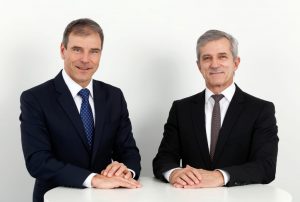 Prof. Thomas Zeltner, President of the Board of Directors and Swiss Transfusion SRC Dr. Bernhard Wegmüller, CEO and Chairman of the Management Board Swiss Transfusion SRC
Continuing development: The coronavirus pandemic made it clear that foresight and investments in calmer times pay off. A case in point: thanks to the development of digital processes, a key element in our strategy, we were able to keep the blood supply in Switzerland stable and ensure a seamless process in blood stem cell donation – from the registration of donors to collection procedures to transplant procedures – at all times.
Gratitude: We want to say thank you. Thank you to the staff, who stepped up every day to make sure that the right donation was available for every patient at the right time, even during the pandemic. Thank you to all the donors, who trusted us and have, through their commitment, given hope and health to many patients. Thank you to the patients who kept on fighting despite the added difficulties. And thank you to our national and international partner organisations for sharing their experiences, information and ideas with us and for working with us to find solutions together.
Prof. Thomas Zeltner
President of the Board of Directors
Swiss Transfusion SRC
Dr. Bernhard Wegmüller
CEO and Chairman of the Management Board
Swiss Transfusion SRC
Online vaccine check tool
Find out quickly when a person will be eligible to donate after receiving a vaccine
Learn more »
More newly registering donors under the age of 30
13% increase over 2020
Learn more »
HIGHLIGHTS
Leukemia Charity Run
CHF 80,000 in monetary donations collected for the registry
Learn more »
World Blood Donor Day 2021
Members of the Swiss Parliament donate blood
Learn more »
268,202 blood donations
for a good blood supply
Learn more »
2021
HSG student-run event
St. Gallen against leukaemia
Learn more »
40 million
registered blood stem cell donors worldwide
Learn more »
72x
donations of blood stem cells to a stranger
Learn more »